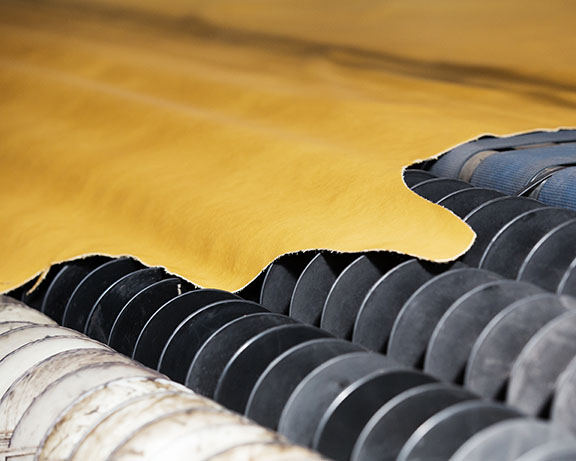 Do you think the performance leather trend will continue?
We believe it's a trend that is here to stay. Last year we were forced to spend more time at home and we found ourselves spending a lot of time with our furniture. At this time we pushed ourselves to produce and supply performance leathers that are beautiful and that will age with time. We see how well that is working and more importantly, how happy consumers are with the new material. It's here to stay.
There is no special formulation to make them performance, either, they are just intrinsically of performance quality based on the raw material and how they are manufactured at the tannery.
What is the most luxurious type of leather for a sofa?
It would be one of our natural, aniline dyed leathers. They are most requested by manufacturers that do upscale furniture. They tell the story of where the cow has been with fat circles, natural defects, etc.
What are the different dying and tanning processes for a sofa?
There are different ways to get our leather tan. What we do is focus on upholstery leather. We want a leather that is durable, but that also pleases the senses. We are producing in a large scale and we found that aniline dying and chrome tanning the hides are the best processes for us. Chrome is one of the most sustainable and safe ways to tan leather.
What are some factors to look for in a leather that will look truly authentic? How do you know whether leather is authentic or not?
Anything that goes in front of the word "leather" like "eco-leather", "vegan-leather", is not leather. Real leather is just leather. We would recommend consumers ask what they're dealing with. And quite simply, just touch it. If you are touching real leather, you will like it and if we put something next to it that isn't real leather, you will know. The price point is also a big indicator.