The term "one size fits all" doesn't exist in the rug world. There is a wide range of rug sizes out there, but there are a few standard sizes you'll see as you shop online for rugs.
3' x 5'
A 3' x 5' rug is often used as an accent rug, unless you are designing an unusually small room. Just as a loveseat is a slightly smaller version of a sofa, a 3' by 5' rug is cozy, smaller version of larger area rugs. They are best shown in kitchens and bathrooms with a luxe feel and functional benefits. Or use it to Add a pop of color to the entryway.
5' x 7'
The best way to describe a 5' by 7' sized rug is by comparing it to a sofa. An average sofa is about 84 inches long, or 7 feet. So, you can imagine a 5' by 7' rug as being as long as a sofa and a little bit wider.
6' x 9'
For apartments or small living rooms, a 6' by 9' rug could be ideal as an area rug. Usually, with a rug of this size, a sofa and two chairs can comfortably anchor it with their two front legs. Even better, this leaves enough room for a coffee table table ottoman.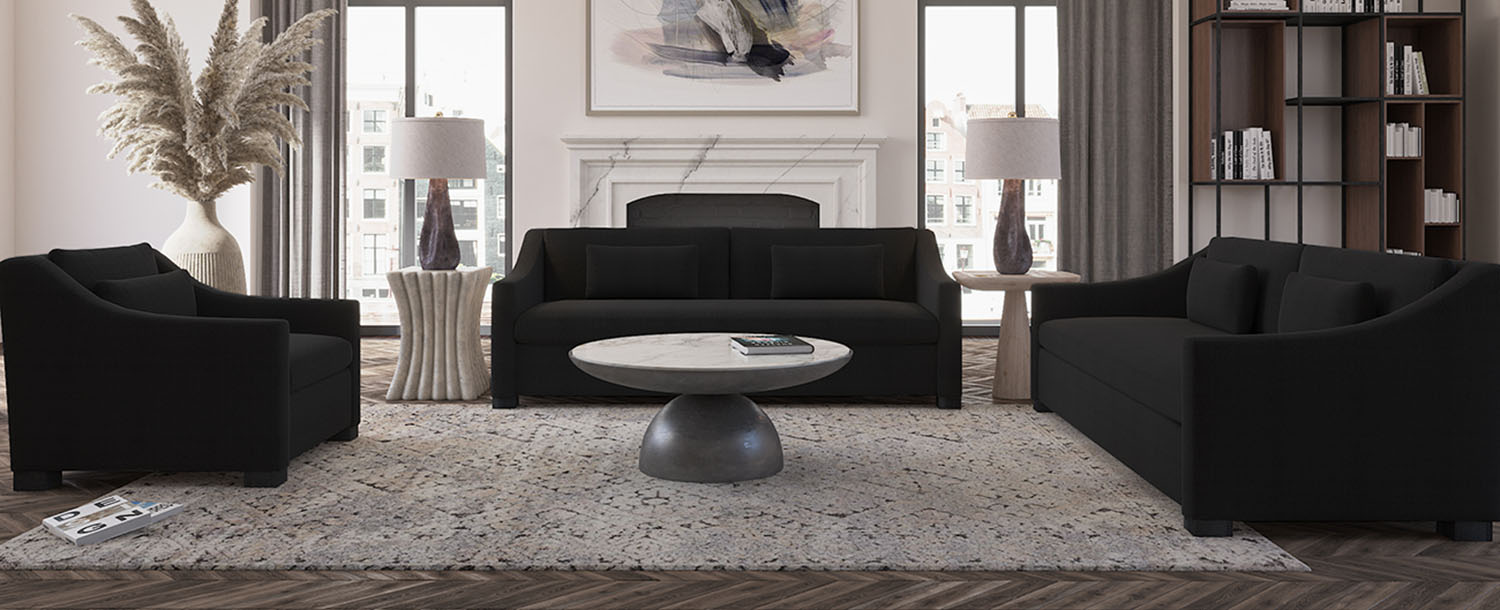 8' x 10'
When a space is big enough that your furniture doesn't have to touch the wall, this is a good indicator that an 8' by 10' rug could be the best size. A rug of this size will give you room to fit all four legs of your sofa, a coffee table, and the front two legs of your accent chairs.
9' x 12'
A 9' x 12' rug will easily - and happily - fit your sofa, coffee table, and two accent chairs with space around the edges of each. This size is often best for large rooms, lofts, or open floor plan spaces.
Additional
As mentioned above, there is a wide range of rug sizes available. That being said, you may also find rugs in sizes such as 4' x 6', 5' x 8', and 6' x 9'. The scale of these rugs will feel similar to the standard sizes above, but you may prefer these slightly more square rugs if they mirror the shape and size of your room.
There are also rugs called "runners" that work great for hallways, in between your kitchen island and cabinets, and bathrooms. Runners typically range from between two and three feet wide and anywhere from 4' to 15' feet long.