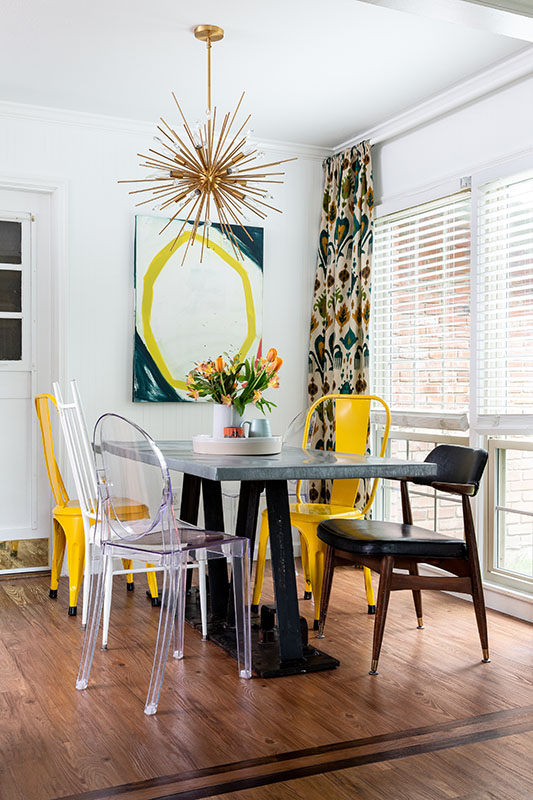 Q: We are in the business of custom furniture, so we'd like to pick your brain on furniture a bit. What is your favorite Tandem Arbor piece and how would you customize it to be the perfect fit (skirt it, add piping, make it curved, etc)?
I love the Lafayette Poster Bed - a fully upholstered four-poster bed is so unique! I'd love to either add a nailhead detail with solid-colored upholstery or upholster it in a funky patterned fabric.
What is your go-to sofa style for timeless impact that doesn't lack in design or personality?
A tufted chesterfield-style sofa is an all-time favorite of mine. I love to upholster them in either a rich jewel-toned velvet or yummy cognac leather.
Do you like to upholster furniture in a pattern or do you tend to stick to solid colors? Do you mix and match solids and patterns in order to "bust out of boring"?
Since a sofa is such a large investment piece, I tend to stick to solid fabrics or leather and bring interest with accent pillows. But for chairs, anything goes! I love to upholster tub chairs and dining chairs with a contrasting patterned fabric on the back for a fun surprise, and that way the seat can be upholstered in a durable performance fabric or leather (which moms love!).
When you're sourcing furniture for a project, are there craftsmanship details or features you always look for?
With custom upholstery, I always prefer to source US-made pieces with quality construction methods so that my clients get the most of their investment with a one-of-a-kind piece that's built to withstand family life. And working with a reputable company is important to me - I need to be able to stand by the pieces I'm recommending for my clients.