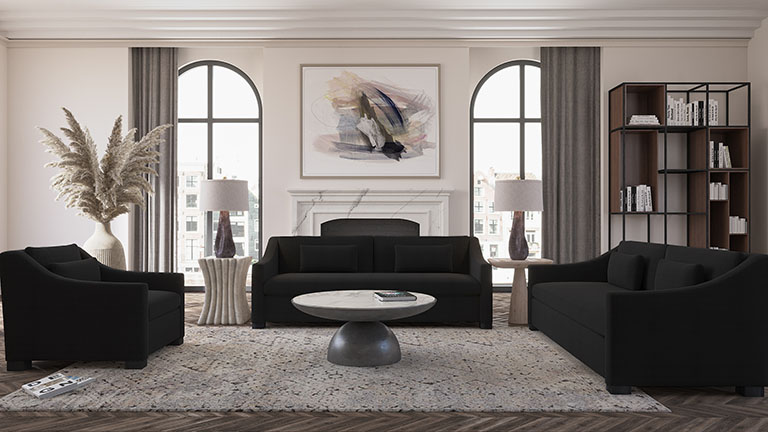 So, what's the solution to combatting the environmental impact of fast furniture? The first step is to recognize when you are taking part in contributing to the fast furniture problem, which occurs when buying from stores that mass produce and import in volume. Outsourced mass production has changed the face of the industry - to the detriment of both the customer and local manufacturers. To be part of the solution, there are several great alternatives for finding stylish furniture.
Our number one suggestion would be to start thinking of your furniture as an investment into a good quality product. If you need a sofa and know the style and upholstery you desire will work as you transition through different stages of your life, then invest in a sofa that will last. Not only does this investment often refer to the cost - fast furniture is cheaper for a reason - but also to the time and research needed to find a furniture company that feels right to you. As part of this vetting process, look into their manufacturing practices, where their products are made, and what their products are made out of. Uncovering this information will help you make an informative decision on who you want to purchase from, the level of quality that company produces, and how long you can expect your furniture to last. If we were in your shoes searching for furniture, we would want to purchase from a company that provides peace of mind through handcrafted, bench-made, sustainable processes that ensure a quality, long-lasting piece.
If you have a smaller budget, but would still like to avoid any fast furniture, there are so many good finds of high-quality furniture at secondhand thrift stores or Facebook Marketplace. Sometimes the furniture found via these means could use some love, but if you're willing to put in the time, minor repairs and refurbishing can go a long way toward making a piece feel fresh and elongating its lifespan. Another tip is to look for items with versatility, as opposed to niche furniture. This could be a table that can be used for dining or as a desk, maybe even a dresser that could also serve as a buffet table.
Regardless of how you find your furniture, regular maintenance can really go the distance in maintaining its longevity. Caring for your items, such as tightening up bolts or cleaning upholstery, are just two ways to increase the lifespan of your beloved new furniture.